This is the sequel of my first local itinerary. If you have not no idea whatsoever about this rambling post, feel free to read the part 1 here.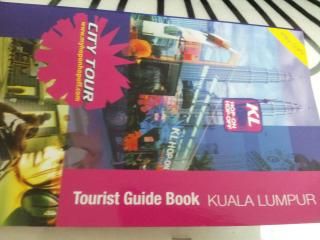 The City Tour Continue
After the free and easy time in the National Palace, we hop on the bus again and get down at stop No. 14, the Lake Garden to visit the National Monument. I remember seeing this as a child on Television. Feeling so patriotic, we thought it will be good for once to really have a nice picture here.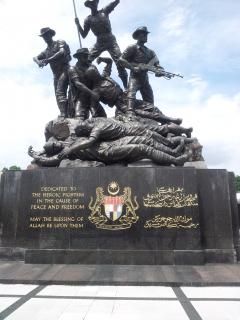 Ok next stop is a familiar place, since I used to work part time around here during my campus life. It bring great reminiscent of memories and proud to say this is my playground once. Stop No. 17, St. Mary Church and Dataran Merdeka.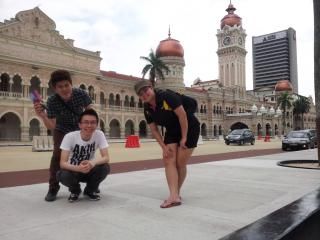 From here, we manage to get on the open sky view bus. Enjoying the blowing wind and tourist-feel treat, we decided to just relax on the bus all the way to stop at the Stop No. 2, KL Tower. Oh ya.. Please take note that they also sell discounted entrance ticket for some attraction places like the observation deck in KL Tower and etc in the bus. So if you are planning to go inside during the stop, it's really worth to buy the ticket inside the bus.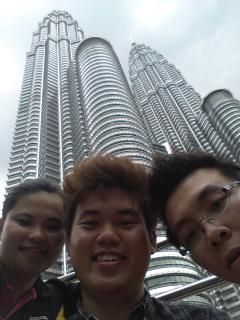 After hop on and hop off and walk for continuous hours under the hot sun, we started feeling tired. We actually skip a lot of interesting places that well known locally and finally end the tour at the same stop we begin with to meet up some new friends in Berjaya Times Square.
Small Budget
Ok.. So how much do I need for this trip?
The ticket was purchase in advance on discounted price RM10 only per person. Original price is RM19 for Mykad holder.
From Melaka to Kuala Lumpur, we travel by the cheapest bus for 2 hours direct to Terminal Bersepadu Selatan for only RM9.++/way. Take a Star LRT from there to Hang Tuah Station, I don't really remember the price but I think it is less than RM3.00. Wait for another friend to join us on the station. Then walk about 5minutes to Berjaya Times Square. We have our sponsored lunch there then by foot again for less than 10minutes to Bukit Bintang Walk. After the trip, we met with my friend's another friend, have dinner together then get a ride back to Melaka for FOC.
The most I spend is on food, because for breakfast we did have a very fancy Chinese dumpling cuisine back in Melaka, and for dinner the mamak stall KL style. Along the way, I bought few drinks and ice-cream due to the very hot weather. Oh, and also the super damn expensive entrance fee to Observation deck in KL Tower for RM29/person. As a conclusion, I think the budget is more or less as below:
Transport – RM13.00
Food – RM40.00
Entrance Fee – RM29.00
Yes, a very small budget indeed but the memory is priceless.
Overall Experience
Hop on Hop Off, I would say.. What a great short road trip! But bear in mind, the weather in Malaysia is super damn hot at times. It would be well recommended for you to apply sun block all the time. You can also opt to bring umbrella or wear a hat along the way. Long sleeve or long pants is a big No No. Since you will walk a lot, a pair of comfort shoes will be such a great help. During the stops, though we sweats like a rainfall, we did take a billion worth of pictures.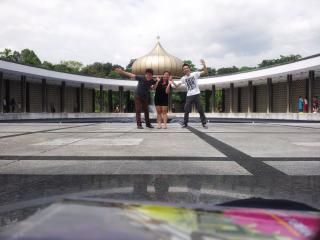 As for the service, the tour guide is very helpful and pleasantly friendly. The buses arrive on time and the explanation was quite fascinating. For a Sabahan who once stayed in Kuala Lumpur for almost 4 years, I would say somehow I really did feel like a tourist for a day. There were too many places that I saw during the tour that I have never even imagined its existence. Some are the roads that I would not travel on regular basis. Some are the buildings I am not aware of. I am very much glad to experience the tour and I really do enjoy the view.  For more detail information on the city tour, you can actually head on to KL Hop on hop off website. They have quite a good source for Malaysia travel guide.
The Down-turn
The only thing I am not very happy with during the tour is the visit to KL Tower Observation Deck. Maybe it's just me or maybe I just come on the wrong timing, but I would say that I was totally disappointed. With that amount of fee (considering local people is cheaper than the tourist), I actually expect more than just a small circle with only few telescope to see some buildings view.  And the lighting too, omg all my photo is taken in the dark. For us to promote this as one of KL Tourism attraction, it is sadly bloodsucking expensive and not very appealing.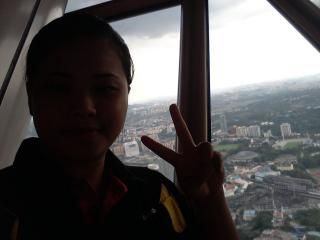 And so I will end the short trip story in this long post here. Till then.
Happy travelling mates!
Disclaimer : This is not a sponsored post, everything posted here is based on author's personal experience.