This is a very long due post. Since I have been thinking about my dream travel even before 2013 New Year, I make a personal goal to travel somewhere at least once a month. So here is my very first 2013 local itinerary trip.
Short Overview
Have you ever wish you can experience sightseeing on an open deck double decker bus just like in London? Touring around the busy city, act like a boss? Well, fret not, you don't need to go that far anymore, we have everything here in Malaysia. Introducing…… (drum roll)…. KL Hop-on Hop-Off City Tour : The original double decker city tour (their self-proclaimed)!!!  lolz
A good friend of mine bought the half priced KL Hop-on Hop-off ticket from some deal website since before Christmas last year but we only manage to go to my London-like travel trip in Malaysia on one fine Saturday somewhere mid-January early this year. The trip gave me a whole new insight and I am pleased to encourage you to try them in case you are like me travellers at heart with a very tight budget. The post is rather long I believe, so I divided them into 2 parts.
What is KL Hop-on Hop-off City Tour?
From on my own understanding, I believe it is a tour where the guests can hop-on and hop-off the bus as many times as you want at any tour stops around KL as long as you have the ticket and it's still valid. The ticket validity is either 24hours or 48hours. The buses runs continuously daily from 8.30am until 8.30pm, in around 30 minutes intervals.
The Buses
Based on my observation that day, I noticed that KL Hop-on Hop-off provides 2 types of fully air-conditioned double decker bus. One is the two deck fully closed bus and the other is bus with some sky-view open deck on the second floor. I tried both, and I personally like the one with the open space. Feel very much more like London you know.
A pre-recorded commentary in English was played inside the bus along the way. Basically they will highlight about the many stories and activities on each of the places of attractions that we pass through. Once in a while, the personal tour guide will add on some in depth explanations. They also provide many brochures and vouchers for local services inside the bus.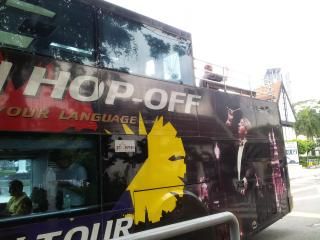 And oh, the bus was all very colourful and bright, so don't worry you can easily recognised them even from afar.
The Route
The tour actually covers most of the major attractions places and shopping centres in KL city centre such as KLCC, Twin Tower, Bintang Walk, Merdeka Square, KL Tower, KL Sentral, Lake Garden, Petaling Street, Jamek Mosque, St. Mary's Cathedral and many more.
This the route provided in their Kuala Lumpur Tourist Guide Book.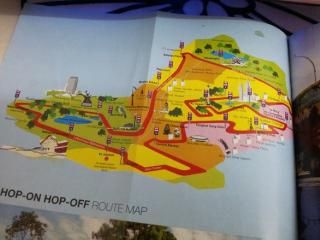 Their KL Tourist Guide book is provided free on the bus. It have all the detail information on the covered tour along with a very clear map on how to get to the surrounding point of interest. Very colorful guide indeed and its a complete all in one guide you will need to travel in Kuala Lumpur.
As for us, we start from Bus Stop No. 6, Jalan Bukit Bintang to redeem our discounted ticket. It's a very small ticket booth (actually just a table) in front of Piccolo Hotel. We get lost a bit when searching for this place because we never look up, but if you walk all the way and stop in front of the Pavillion Shopping Centre, you can actually see the sign very clear.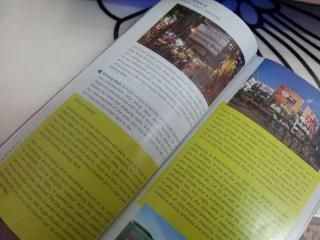 Since we are Malaysian and are very familiar with certain places, we decide to make a stop only on places we never even think of visiting before. The bust stop for about 15minutes at the National Palace, stop no.13. You can hop off the bus without worrying you will get abandon and take as many picture as you can for 15minutes. So this is actually where our Malaysian Yang Di-Pertuan Agong live, such a great feeling to know that fact.
You can continue to read about my experience, the budget, down-turn and overall review on the Part 2 below:
http://anastasiaann.com/kl-hop-on-hop-off-bus-trip-part-2/
Disclaimer : This is not a sponsored post, everything posted here is based on author's personal experience.